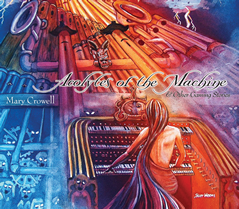 Mary Crowell
is a musician and singer from Athens, AL. Right now, Haven has her latest CD in stock,
Acolytes of the Machine
.
Crowell is well known in filk circles. Some of the songs here certainly have that geeky, tongue-in-cheek humor like "M Is for Magic Missile" and "I Put My Low Stat." ("I Put My Low Stat" EN World's Battle of the Bards last year.) Others are just straight up awesome in a Pink-Floyd-Fronted-By-Debbie-Harry kinda way.
Seriously, check her stuff out...